It's Summer. It's Hot. You still have to make dinner....but what to make on an extremely hot day?Join us in our First Recipe Contest!!
We've shared some of our favorite No-Oven recipes & we want you to share YOURS!!!
Each week we will share our readers best No-Oven recipes & YOU get to decide who is
The winner will recieve bragging rights & her own set of popscile molds (they are the favorites of Kate & Sara from
Our Best Bites
)
Contest Rules:
E-mail
us at:
shesaidblog@yahoo.com
with your No-Oven recipe.Your recipe can cover any course from drinks & appetizers to dessert and anything in between and a picture of the finished dish (up to 2 photos). Be specific with measurements, directions and the size of cans, packages and pans so others can successfully make your recipe. Include a few words about the origin of your recipe. Share any compliments it's received, plus any variations you recommend. You may only enter one recipe. We will be accepting recipes from
July 14th -August 31st
.
We will post all of our readers fabulous recipes and you will have a treasure trove of cool, easy, yummy no-oven recipes to try. You will will
try
them out and come back and leave feedback on the recipe (or recipes...who says you have to cook just one?)
On
September 5th
we will ask all of our readers to come back and
vote
on their all-time favorite No-Oven recipe. In the event of a tie Michelle & Nan will make the final decision.
Grab a button
and let all of your blogging friends know that you are a part of this challenge (and to come vote for your recipe!!) The more the merrier and the more recipes...the Better!!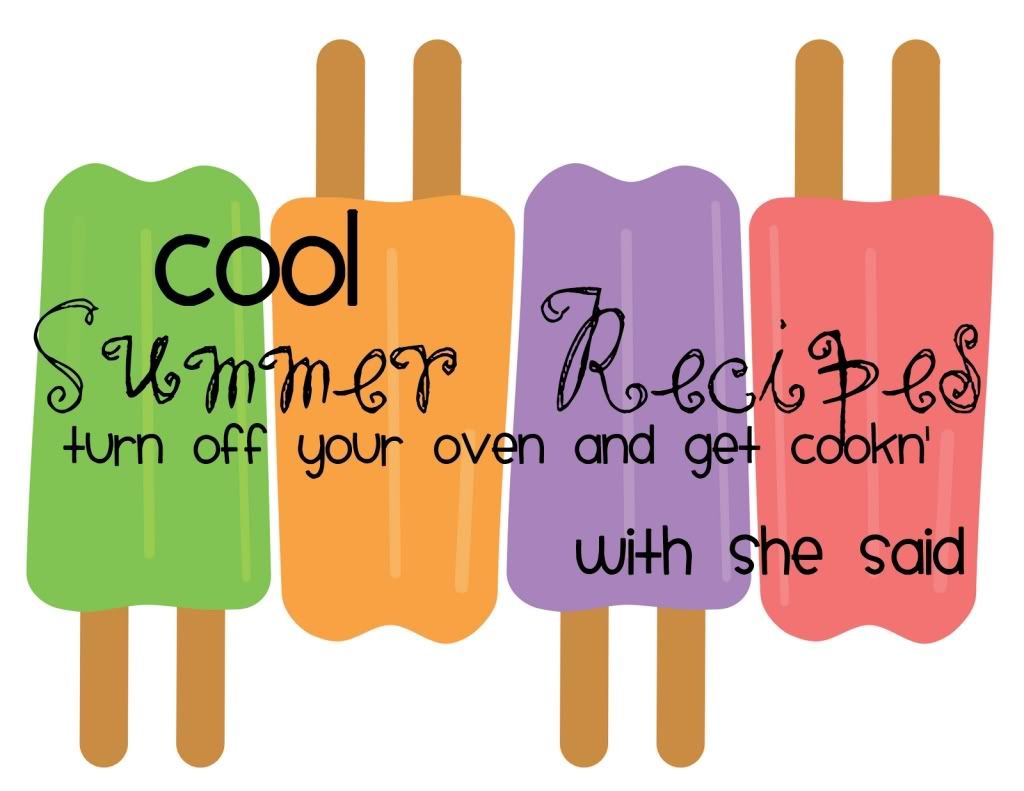 Any questions? E-mail us at
shesaidblog@yahoo.com